Drive!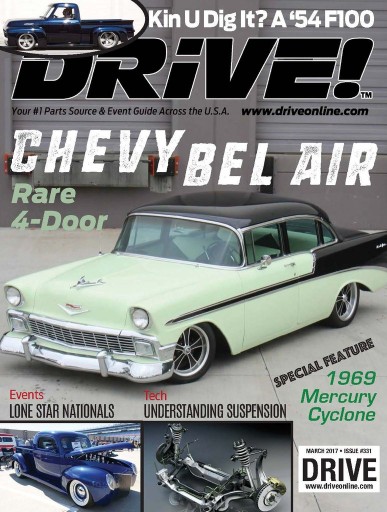 Since its inception in 1986, DRIVE! magazine is Americas #1 automotive event source, covering everything from nostalgia racing and classic car restoration to high-tech street rodding, right on through 70s muscle cars.
Each issue of DRIVE! magazine is jam-packed with show listings, technical stories, new parts showcases, new tool showcases and info about the latest performance trends
This magazine is Free to the public. Each issue of DRIVE! magazine is distributed at major automotive retail outlets throughout California, Arizona, Nevada and the Northwest. DRIVE! freely distributes thousands of copies at numerous car shows, rod runs, automotive swap meets and automotive trade shows.
---
Magazines
165,000
12 per year
National
38
$52,000
94%

---
Specs
OnPage Full Page Specs: 7.00&quot X 9.75&quot
OnPage Half Page Specs: 6.75&quot X 4.75&quot
OnPage Third Page Specs: 4.50&quot X 4.75&quot
OnPage Qtr Page Specs: 3.25&quot X 4.75&quot