Easy Comforts Catalog Blow In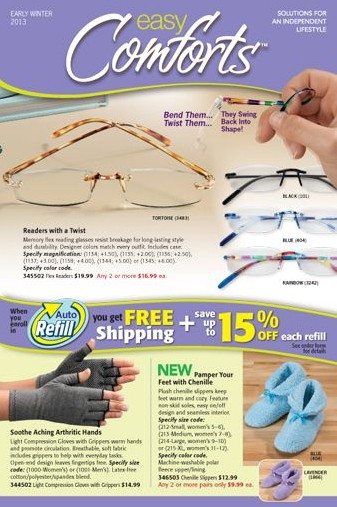 Get in touch with highly responsive females purchasing value-priced health and personal care products. With Easy Comforts, mailers gain access to this powerful female audience purchasing products for themselves and family members to ensure comfortable solutions when life presents physical challenges.

The Easy Comforts Blow-In allows advertisers to have their insert included in the catalogs sent to their "valued" customers and prospects, who have purchased products including apparel, health and personal care, general merchandise, housewares and kitchen products, incontinence, mobility and bath safty products.
---
Catalog Blow-Ins
915,000
12 per year
National
Yes
100,000
65
$42,000
80%

---
Specs
Insert Minimum Specs: 3.00&quot X 5.00&quot
Insert Maximum Specs: 5.00&quot X 6.00&quot
Insert Max Weight: 0.25oz