Grier's Almanac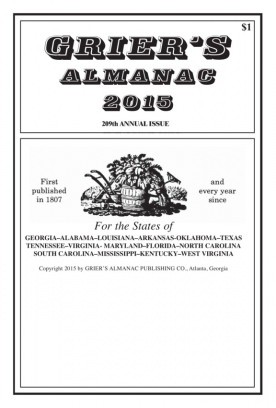 Grier's Almanac has been published consecutively since 1807, and distributed throughout the South from Virginia to Texas.
Content is primarily focused on farming and gardening with emphasis on family living. A twelve month calendar section is included containing both astronomical and astrological information, chronological events, weather forecasts, holidays, and various phenomena.
Grier's Almanac is distributed in the rural South via primarily independent drugstores, feed & seed, and hardware stores. Grier's Almanac is a free publication primarily supported by advertising.

---
Magazines
3,000,000
1 per year
National
50
$30,000
50%

---
Specs
OnPage Full Page Specs: 4.63&quot X 7.13&quot
OnPage Half Page Specs: 4.63&quot X 3.56&quot