Klingspor Woodworking Shop Blow Ins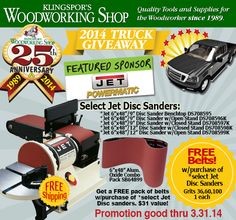 Klingspor offers a full line of high quality products for woodworkers to meet virtually any sanding or finishing application. From abrasive belts to disc to sheets to finishing flapwheels, Klingspor offers "The Most Sanding Power for Your Money."

For over 20 years, the Klingspor's Woodworking Shop catalog has been home to the very best in sanding and finishing products. In addition, the highest quality tools and supplies for virtually every aspect of woodworking are offered making this one of the most comprehensive catalogs for woodworkers of all skill levels.

These buyers are skilled craftsman. Many are homeowners with workshops and have a keen desire to purchase the best products available.

Craftsmen who make everything from household furniture to family heirlooms to lathe projects to intricate carvings are customers of the Klingspor's Woodworking Shop catalog. The typical buyer is a homeowner with expendable income to pursue their hobbies and to follow their interests.

Blow Ins are included in catalog mailings four times a year within Klingspors' Quality Sanding products for the professional catalogue.

---
Catalog Blow-Ins
82,333
6 per year
National
Yes
25,000

---
Specs
Insert Minimum Specs: 3.50&quot X 5.00&quot
Insert Maximum Specs: 5.00&quot X 6.75&quot
Insert Max Weight: 0.25oz