Our Town America New Mover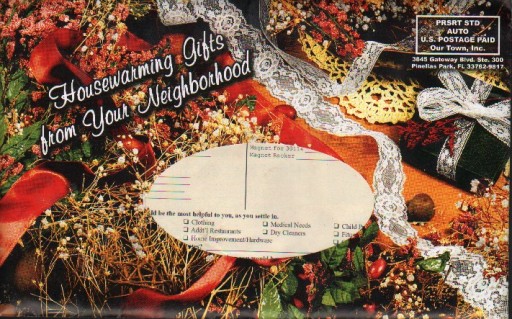 New movers in over 4,000 zip codes across the country receive customized Our Town America Welcome Packages and Gift Certificates. Each month, Our Town America prints over 1 million personalized Gift Certificates and welcomes over half a million new movers across the country to their new communities and introduces them to local businesses.
The Our Town America National New Mover Insert is included in "America's Premier Welcoming Program". Your Pieces will accompany the attractively-packaged New Mover Mailing which includes: a Welcome Letter, Personalized Gift Certificates, New Mover Survey and a Community Magnet.
A monthly co-operative direct mail program that targets New Residents, giving you the vehicle you need to establish long-lasting buying habits with millions of new movers. The mailing provides a "good neighbor" service by bringing established local merchants and national companies to new movers during the crucial 3-8 week period after the move (a time where movers think about their needs and the businesses which can best meet them). Our Town America combines the presentation of the best solo mail product, the cost effectiveness of co-operative mail and the sprit of local community sponsorship.
---
Co-op Envelopes
500,000
12 per year
National
100,000

---
Specs
Insert Maximum Specs: 5.50&quot X 8.50&quot
Insert Max Weight: 0.05oz