Speedgear PIP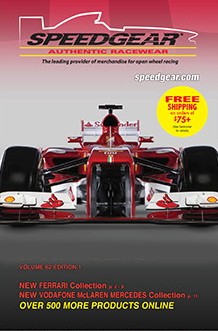 Your insert can be included in each and every outbound order shipped by Speedgear.
Speedgear is the leading provider of high quality licensed racing merchandise in the world. They carry top names such as Ferrari, Lamborghini, McLaren Mercedes-Benz, BMW, Puma Ferrari, Alfa Romeo, Porsche, Renault F1, Williams F1, Toyota F1, Honda, Shelby Cobra, Audi, Randy Owens, Valentino Rossi, Michael Schumacher and many other top teams, brands and drivers.
Speedgear offers a complete line of licensed clothing, artwork, books, videos and diecast models.
---
Package Inserts
5,750
12 per year
National
Yes
25,000
43
$75,000
63%
60%

---
Specs
Insert Minimum Specs: 3.00&quot X 5.00&quot
Insert Maximum Specs: 4.00&quot X 6.00&quot
Insert Max Weight: 0.25oz