Taste of Home Onsert RAL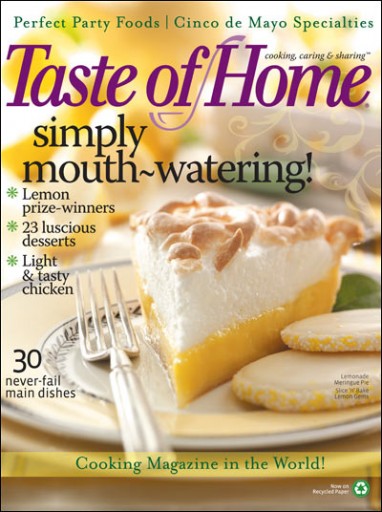 Taste of Home brings you into the kitchens of America's most responsive readers. Taste of Home's editorial is entirely devoted to simple honest country cooking. Each issue features cooking contest, clip "n" save recipe cards, hints and tips from experienced cooks, and more. Most recipes are reader contributions. "Taste of Home" is targeted to all types of cooks, and offers hints on cooking for two as well as meals on a budget for big families.
Consumer source: Direct mail.
---
Onserts & Polybags
629,167
12 per year
National
Yes
250,000
61
$44,000
75%
78%

---
Specs
Insert Minimum Specs: 4.00&quot X 6.00&quot
Insert Maximum Specs: 7.50&quot X 10.50&quot
Insert Max Weight: 0.25oz