Transworld SKATEboarding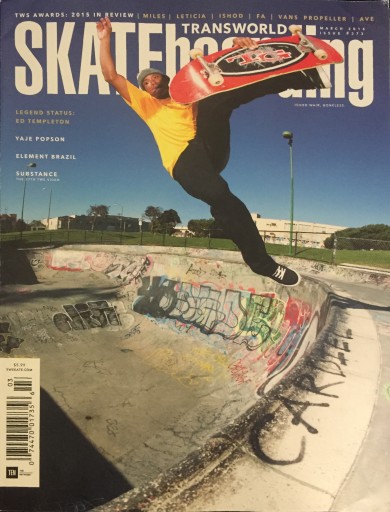 TRANSWORLD SKATEBOARDING has been the largest, most-respected skateboarding media outlet in the world for more than 30 years.
Delivering the most innovative photography and cutting-edge editorial content, it offers readers an inside look at skate culture through news, product reviews and in-depth profiles of the world's top skateboarders.

TransWorld SKATEboarding covers the American and global skateboard scenes from street and vert-ramp skating to international competition, and it features in-depth interviews with the top pros and up-and-coming riders. Designed to spread the culture of skateboarding in its purest form, the magazine provides bold, inside coverage of professional skateboarding events, personalities, equipment and techniques.
---
Magazines
353,000
12 per year
Yes
34
$98,000
79%

---
Specs
OnPage Full Page Specs: 7.50&quot X 10.00&quot
OnPage Half Page Specs: 7.13&quot X 4.75&quot
OnPage Third Page Specs: 2.13&quot X 9.75&quot
OnPage Qtr Page Specs: 3.44&quot X 4.75&quot